Initial data
Initial information from sources or from an eyewitness
Location:
Екатеринбург
Sverdlovskaya oblast
Russia
Most often, cats are identified not with a goblin, but with a brownie, which, according to beliefs, looks like a cat: small, shaggy, dark all over and warm. Brownies do not do evil to people, they help a person. You need to leave food for him at night so that there is happiness in the house. It is necessary to invite him with you when moving to a new apartment. Sometimes at night he presses on his chest, at this point he needs to be asked:
"For better or for worse?" - and he will answer with a human voice.
Vera Nikolaevna, a resident of Yekaterinburg, did so by inviting her brownie to a new apartment in 1989. That's where it started, especially the first six months. It seemed that someone was walking and running around the apartment, the sister who spent the night felt someone's breathing, the door was opening. Vera Nikolaevna at night someone stroked her head, held her face, and the sofa moved, as if someone was sneaking up to her. Turns around – there is no one. Sometimes it suffocated. I asked once:
"For better or for worse?".
Someone said in a low voice:
- "For the worse, for the worse."

- "Can I pet you?"

- "You can, you can."
I lowered my hand from the sofa and felt something fluffy, like my daughter's hat. Trouble started at work.
The brownie warned her about her father's death: at that time there was a crash in the kitchen, as when throwing a chair, her husband was even scared. Vera Nikolaevna noticed a white cloud with a head lying on it behind the glass on the balcony; the head looked at her, then disappeared. Before bad events Vera Nikolaevna always had prophetic dreams.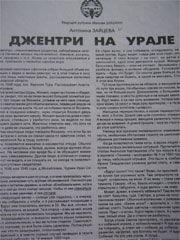 Type:
Scanned fragment of a newspaper or magazine
Source:
urbibl.ru
Hypotheses
List of versions containing features matching the eyewitness descriptions or material evidence
Not enough information
Investigation
Versions testing, their confirmation or refutation. Additional information, notes during the study of materials
Not enough information
Resume
The most likely explanation. The version, confirmed by the investigation
Not enough information
---
Log in
or
register
to post comments