Initial data
Initial information from sources or from an eyewitness
Kamyshlovsky district, Churkin Pyotr Semenovich:
"It happened in 1981. During the day I slept lying on my back. And suddenly someone started running over me. At first I ran, then I began to press my chest. When I opened my eyes, there was an old man standing 15 cm tall on his chest, with bast shoes on his feet.

The old man got scared, blinked his eyes very quickly and began to slowly back away, then sideways, sideways, speeding up his steps, began to move to the edge of the body, after which he jumped on the edge of the bed - the bed rattled – and jumped off the bed to the floor - the floor also rattled."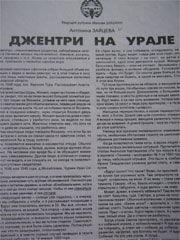 Type:
Scanned fragment of a newspaper or magazine
Source:
urbibl.ru
Hypotheses
List of versions containing features matching the eyewitness descriptions or material evidence
Not enough information
Investigation
Versions testing, their confirmation or refutation. Additional information, notes during the study of materials
Not enough information
Resume
The most likely explanation. The version, confirmed by the investigation
Not enough information
---
Log in
or
register
to post comments