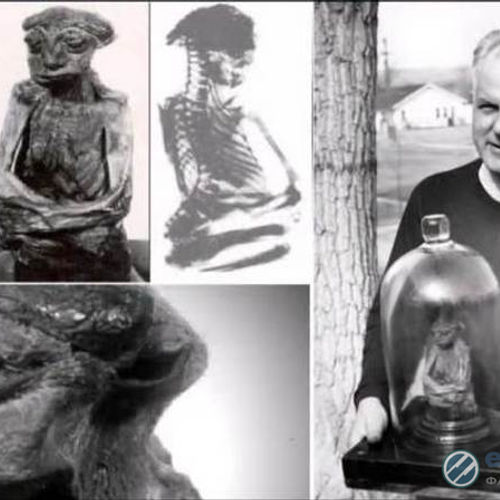 | | |
| --- | --- |
| Added | Tue, 02/01/2018 |
| Источники | |
| Дата публикации | |
| Феномены | |
Whether there are in fact leprechauns – little wizards of the legends of the Indians of North America is unknown, but in the United States in 1932 was discovered a mummy of a man's height not exceeding 45 inches.
It happened in the mountains of San Pedro, Wyoming. Prospectors Frank Carr and Cecil main with explosives was looking for a gold-mine, and ran into the stone room, in which stood a tiny human mummy.
As soon as the discovery became the subject of publicity, it immediately took scientists, however, at first they thought it just a doll. And only in 1950 for the first time the mummy was subjected to examination using x-rays, with the result that it was determined that it is still a skeleton, and the humanoid. Broken bones in the spine and the clavicle is allowed to make even the conclusion that this creature was killed.
The study of the mysterious mummies continued later. For example, it took an anthropologist of University of Wyoming George Gill, who felt that it was the body of a child anacephal. Radiocarbon analysis showed that the child had been born before 1700, and DNA testing revealed that he was an Indian. In addition, scientists also suspect that the mummy may be just a hoax. That is about all this were the debate of the scientists described in the article in the Casper Star-Tribune dated July 7, 1979. Scientists, apparently, never came to a consensus that is found the mummy, which could be the mummy leprechaun (this assumption is also not excluded).
In the future, a mysterious mummy for several years was kept in a local pharmacy in Micase of Wyoming, where it was shown to buyers as a surprising wonder. But soon the mummy was sold to a businessman from the city of Casper Ian Goodman, who resold it rich from new York to Leonard Wadler – the traces of the mysterious discovery of two gold miners lost.
Although then, according to the publisher of Casper Star-Tribune, was even declared a reward of 10 thousand dollars for the provision of "the mummy leprechaun" for further research, so far no collector has not responded to this appeal. Remained a mystery, what was this mysterious discovery, the mummy of mystical creatures, which, we note, carefully hidden in the mountains in a specially designed stone crypt...
Translated by «Yandex.Translator»
---
Log in
or
register
to post comments