| | |
| --- | --- |
| Added | Wed, 02/02/2022 |
| Источники | |
| Дата публикации | |
| Версии | |
An amazing mega flash of lightning that swept through three states in the southern United States has just become a world record.
A megaflash is not an ordinary lightning from a cloud to the ground. This is a huge electric zigzag that moves almost instantly from one electrified cloud to another.
A sufficiently large thunderstorm system can allow a megaflash to cover hundreds of kilometers and illuminate the sky for more than 10 seconds.
This is exactly what happened over the south of the United States on April 29, 2020. Huge lightning streaked through storm clouds from the south of Houston to the southeastern part of Mississippi. It stretches for 477 miles (768 km) - this is equal to the distance between New York and Columbus, Ohio.
On Tuesday, the World Meteorological Organization recognized this outbreak as the longest-range in history. It is about 37 miles (60 km) longer than the previous record holder, who swept through southern Brazil in October 2018.
The GOES-East satellite of the National Oceanic and Atmospheric Administration captured lightning lighting up the sky in the south of the country.
The WMO also confirmed the second record - a mega flash in June 2020 over Uruguay and northern Argentina - as the longest lightning flash in history. It lasted 17.1 seconds, barely surpassing the duration of the 16.73-second Argentine megaflash of 2019, which was previously a record.
Evidence of new record outbreaks was published in the Bulletin of the American Meteorological Society on Tuesday.
"Lightning is a surprisingly elusive and complex natural phenomenon for the impact it has on our daily lives," Michael J. Smith said in a statement. Peterson, the lead author of this certification analysis and an atmospheric scientist at Los Alamos National Laboratory.

"We are now at a place where we have excellent measurements of his many aspects, which allows us to discover new amazing aspects of his behavior."
Where there's thunder, there's lightning - and it's dangerous
The locations of two mega-flashes - the Great Plains of the USA and the South American La Plata Basin - are hot spots for major thunderstorms that can support such extreme lightning.
"Every time thunder is heard, it's time to go to a lightning-safe place," Ron Hall, lightning specialist at the WMO Committee on Weather and Climate Extremes, who assessed the mega-bursts, said in a statement.
According to Hall, the safest places for lightning are closed buildings. According to him, when looking for shelter from lightning, you should look for buildings that have running water, and not a hut on the beach or a bus stop. If there are no buildings, then the second safest place is a fully enclosed car with a metal top.
"As these extreme cases show, lightning can sweep a long distance in a matter of seconds, but they occur inside large thunderstorms, so be careful," Hall said.
Lightning strikes at people are rare, but still happen. According to the National Weather Service, about 49 people die from lightning every year in the United States and hundreds more are injured. According to the WMO, the deadliest lightning outbreak recorded in history killed 21 people in Zimbabwe in 1975 when they took shelter in a hut.
In the past, meteorologists have relied on ground-based surveillance technology to map lightning flashes. But satellites high above the Earth can see a much wider swath of the planet, which allows them to capture the entire scale of a megaflash in just one image.
The new devices on NOAA's GOES satellites are specially designed to map lightning flashes. China and Europe have installed similar lightning mapping devices on their meteorological satellites. Together, these devices can provide almost global coverage of lightning strikes.
"Now that we have a reliable record of these monstrous outbreaks, we can begin to understand how they occur and assess their disproportionate impact," Peterson said, adding, "There's still a lot we don't know about these monsters."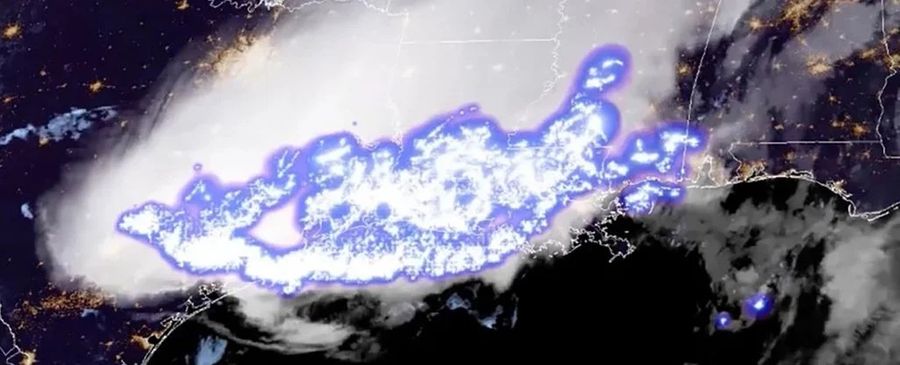 Новости со схожими версиями
---
Log in
or
register
to post comments