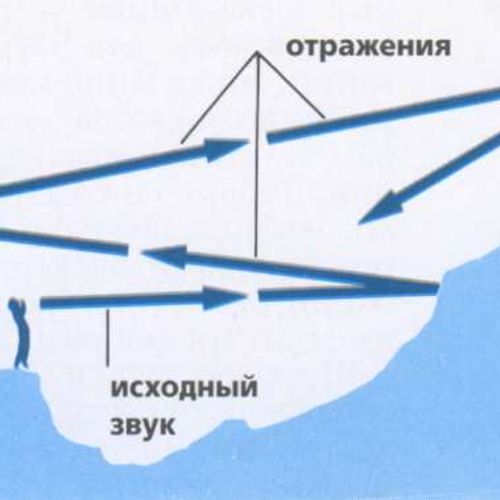 | | |
| --- | --- |
| Added | Wed, 20/12/2017 |
| Sources | |
| Феномены | |
| Version type | |
If the sound waves caused by our own voice or others in any sound source,while spreading an obstacle(wall,steep cliff,forest,they are reflected and can reach the again of the ear of the observer, sometimes much later than the direct spreading.Such a repeated sound caused by reflection of sound waves, called Echoes.
There is a single echo (wave reflected from the obstacle and received by the observer) and multiple echoes (arising from some loud sound, which creates not one, but several consecutive audible responses). For example, in Potsdam, near Berlin, in one of the hall of Sanssouci Palace, a single loud clapping gives the impression of a continuous volley of musketry firing, and at the Palace Simonetta near Milan shot fired from the window of the main building, repeated 50 times, by the reflection of sound from the various outbuildings of the Palace.
Since sound waves in air have a fixed propagation speed (about 340 meters per second), the time required for the sound to return can be a data source about the removal of the subject. To determine the distance to the object in meters, necessary to measure the time in seconds before returning echo, divide it by two (the sound goes the distance to the object and back) and multiply by 340 — get the approximate distance in meters. Based on this principle echolocation.
Translated by «Yandex.Translator»
---
Log in
or
register
to post comments