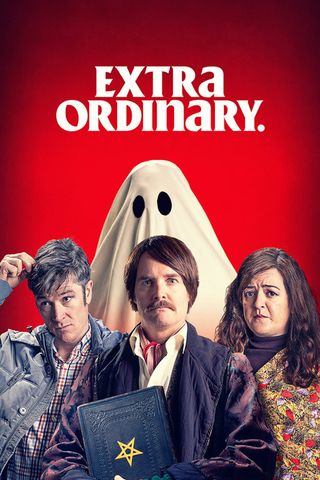 | | |
| --- | --- |
| Added | Sun, 24/05/2020 |
| Release date | |
| Original title | |
| Феномены | |
| References | |
"Above(NOT)natural" (orig. "Extra Ordinary") is an Irish Comedy horror film released in 2019.
Translated by «Yandex.Translator»
Driving instructor rose Dooley lives alone in a small town in Ireland. She has powerful psychic powers, including the ability to send dead spirits to the afterlife, but don't use them since then as a result of a supernatural accident killed her father, an expert in paranormal phenomena Vincent Dooley. Rose ignores the obvious signs of the activity of ghosts and did not return phone calls from local residents asking for help in solving problems with the paranormal.
One of these poor fellows is Martin, who met with rose under the pretext of learning to drive, but really wants her to help him deal with the spirit of his dead wife Bonnie, who frequently visits his house. Rose falls in love with Martin, but with the help of a Ghost categorically denies. Later, she secretly follows him into the store, where a daughter Matina Sarah, and overhears them talking about her.
Christian, a former famous singer and author of only hit, sold his soul to the devil to write a new album and is now looking for a virgin for sacrificial ritual. His wife Claudia accidentally blows up they found the victim, so the singer is forced to seek new. Magic tools Christian lead him to a store where are rose and Sarah. He takes some of Sarah's hair and uses them in the creation of the spell that makes Sara the stationary and floating in the air. Seeing this, Martin starts to panic and calls again rose to help. Rose decides to help Martin, warning him that forced the awakening of the one who has fallen under the satanic spell will lead to an explosion of his body. Not being able to Wake her up, she puts on Sara holding the spell, not allowing her to move to the place of the sacrificial ritual. Rose realizes that Martin is able to talk to ghosts. She explains that to break the spell with Sarah will require ectoplasm seven different spirits.
Rose and Martin answer one of the phone messages and cast out a spirit that has entered the wastebasket, using Martin's body as a temporary vessel for the Ghost. When rose orders the spirit to leave this world and he leaves the body of Martin, the last spits ectoplasm. Christian and Claudia, is enraged restraint spell, see it, and Christian orders rose a driving lesson, despite his fear of this action. During the lesson, the Christian never overcomes his driving, but he manages to get a little bit of hair rose. Rose again looks records of transfers of his father and recalls how he lost control of his ability, with the result that he died. She goes to the Martin house and tells him how as a child, rose helped her father to send to the afterlife, the spirit drowned in a pothole on the pavement of the dog, but forgot part of the spell. As a result, her father became obsessed with both a dog and a spirit of potholes and got hit by a bus. But Martin convinces rose to continue to use your abilities to help Sarah, despite her fears that she may accidentally kill him.
Rose and Martin collect ectoplasm from several different ghosts. They lack only one, and they decide to expel Bonnie out of the house Martin. They almost succeeded to do with the help of pregnant sister rose Sailor and her boyfriend Brian, but Christian uses a spell that destroys imposed on Sara holding the spell and weakens the ability of rose. The result of Martin's remains half-possessed by the angry Bonnie. When they try to apply the collected ectoplasm to Wake Sarah, then you know what attracts her to the place of ritual. They lose sight of Sara and I follow the magpie that haunts rose since her father had an accident. They soon discover traveling by car with Sara Christian and realize that he is behind the ritual. Trying to stop the car, Christian, Martin loses his finger.
Castle Christian kills his wife, permanently preventing him to cast spells, and then prepares to sacrifice Sara. Rose, Martin, Sailor and Brian arrive too late to stop Christian in the floor to open the portal, which falls in the Sara. In addition, Christian is mortally wounded magpie. However, the portal spews Sara back, whole and unharmed. It appears from the demon Astaroth, who accuses Kristianina in breach of contract because he sacrificed not a virgin.
Astaroth decides to take rose, a true virgin, is Sara, but when pulled to the pit, she convinces Martin to have sex with her right on the floor and to deprive it of innocence. While they are doing that, Brian helps a Sailor to have a baby, and Sarah throws Christian into the portal, which closes, when rose and Martin reach climax. Bonnie tells rose that she was good with Martin and Sarah, and then leaves the body of Martin. Martin becomes the vessel for dying magpies, in which, as it turns out, lives the spirit of the father rose and Sailor. He forgives rose for the accident and welcomes born Sailor grandson.
Three months later, rose and Martin opened the business to investigate paranormal phenomena. Martin offers rose's hand and heart that meets a cheerful "No!".
Translated by «Yandex.Translator»
---
Log in
or
register
to post comments